By Gregory Han
Columbia Sportswear recognizes a sequel can prove even more popular than the original. Last year's Rogue One-inspired jacket collection blurred the lines between cinematic costuming and real world functional outerwear – three limited-edition, high-performance jackets that definitely cut a rogue-ish profile. The sequel: another trio of limited edition jackets commemorating arguably the best of the entire Star Wars filmography, fully outfitted to handle ice planet Hoth level climate with tech-insulation and cinematic detailing to delight any original trilogy fan.
Columbia Sportswear sent us a sample of the Luke Skywalker Echo Base Jacket, and we can attest to its warmth-capturing comfort, even sans tauntaun carcass.
This year's Echo Base Jackets – inspired by the ice planet outerwear worn by Luke, Leia, and Han in The Empire Strikes Back – aim to fulfill the role of cinematic homage and a vehicle to showcase Columbia's real world functional outerwear technology.
All three jackets are lined and insulated with Omni-Heat Reflective Lining, the company's signature thermal-reflective insulating system consisting of tiny, reflective dots designed to reflect the wearer's body heat back, steering these water-resistant insulated jackets away from mere costuming into the category of actual effective outerwear engineered to fend off the cold. Additional leather patches, piping, gusset detailing, and pockets lend an authentic Hoth rebel scum vibe to all three pieces.
The Leia Organa Echo Base Jacket is a two-piece jacket and vest combination that captures the spirit and cut of the original, based upon the original costumes from the Skywalker Ranch archives.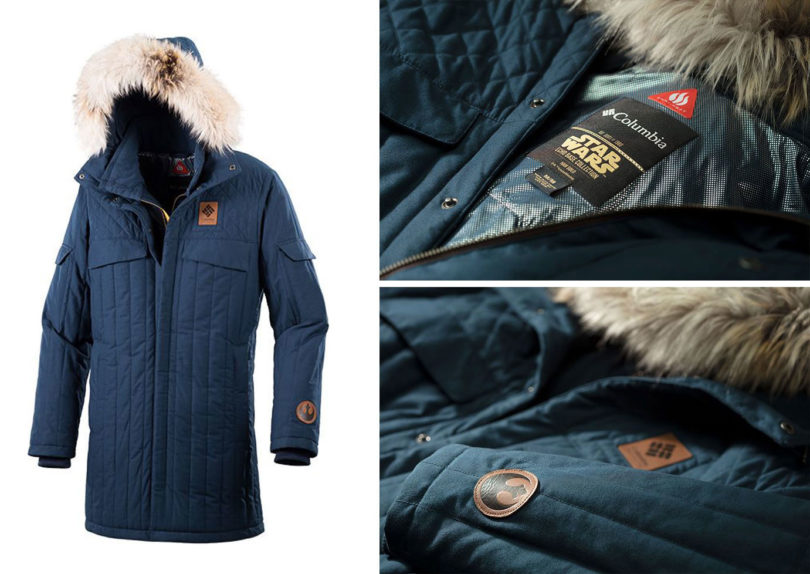 The Han Solo Echo Base Parka is the largest of the three jackets, complete with faux-fur trimmed hood. An additional brown colored Archive Edition signed by Harrison Ford will be released to raise funds for Conservation International.
With only 1,980 of each Columbia Sportswear's Echo Base Collection jacket being produced (a numerical nod to the film's 1980 release), demand for the individually numbered limited edition jackets will likely be as high as Rag & Bone Star Wars: The Last Jedi Capsule Collection. Sales open online at www.columbia.com/starwars on Friday, December 8 at 12:01am EST, or at select Columbia-branded retail locations around the world.
Disclaimer: Columbia Sportswear sent us an unsolicited sample of a jacket for review.
Source:: Design-milk