By Vy Tran
From offices to pool houses to lighting collections, New York-based design and branding studio ICRAVE does it all. One of the company's latest projects is the completion of the interiors for the Serafina Beach Hotel, a stylish property embodying the sun and surf culture in San Juan, Puerto Rico.
In collaboration with San Juan-based LA Architects, ICRAVE stripped the building down and remodeled everything, including the building's systems, facade, and pool deck areas. The team took inspiration from the views of the Atlantic Ocean and neighboring Laguna del Condado, as well as the trendy Condado district, to give the hotel its fresh new facelift.
Tones of blue, sea-glass greens, foam whites and driftwood greys begin in the lobby, extend into the lounge, known as PiñaCo, and out into the pool deck. Upon checking in, you're greeted into a double-height reception area that features a canopy of woven El Torrent light fixtures in varying sizes and colors, wood screenings reminiscent of Erwin Hauer's work, and a terrazzo staircase that leads up to a large abstract mural by Puerto Rican artist Sofia Maldonado.
Stepping in PiñaCo, you can grab a drink at the bar and lounge in swing chairs by Ketal. Turquoise cushions and a large blue and green watercolor area rug by Durkan remind you of the waves just right outside.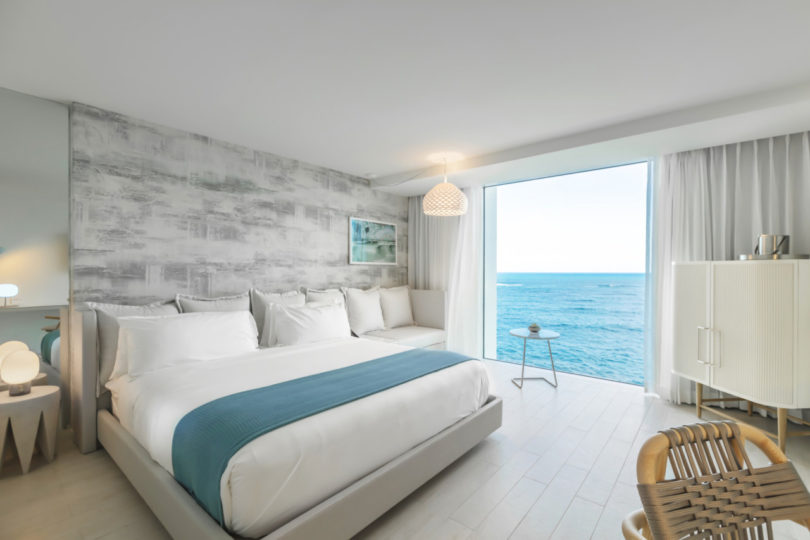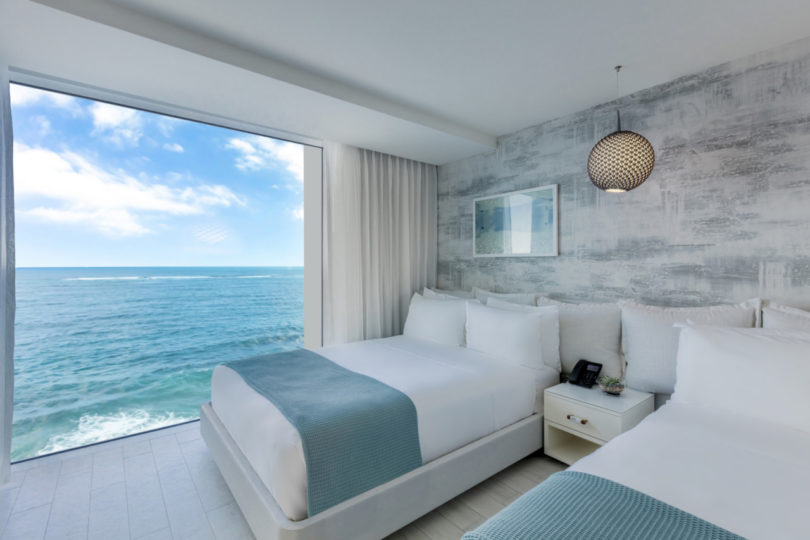 The ocean theme continues through the 96 contemporary guest rooms, all of which boasts floor-to-ceiling windows to deliver you beautiful panoramic views. Mid-century and post-modern furnishings (including ICRAVE-designed sconces) and grey Romo wallcoverings keep the room from feeling like a rustic beach shack, while minimalist photography celebrating "pool life" remind you where you are should you ever forget.
Outside, guests can choose to lounge about from various settings: the nine private poolside cabanas by Ketal, the two pavilions for larger groups, a terraced deck filled with lounge seating and umbrellas, and of course, the 50-foot-long saltwater infinity-edge pool that sits inches away from the breaking waves.
Guests can dine at the on-site aMare restaurant which serves Mediterranean and seafood cuisine fused with local Puerto Rican flavors. A sea-inspired mural by local artist Gerado Cloquell, turquoise and blue glazed tiles by Nemo, and mirrored porthole rings reminiscent of those on a ship continue the interiors' theme.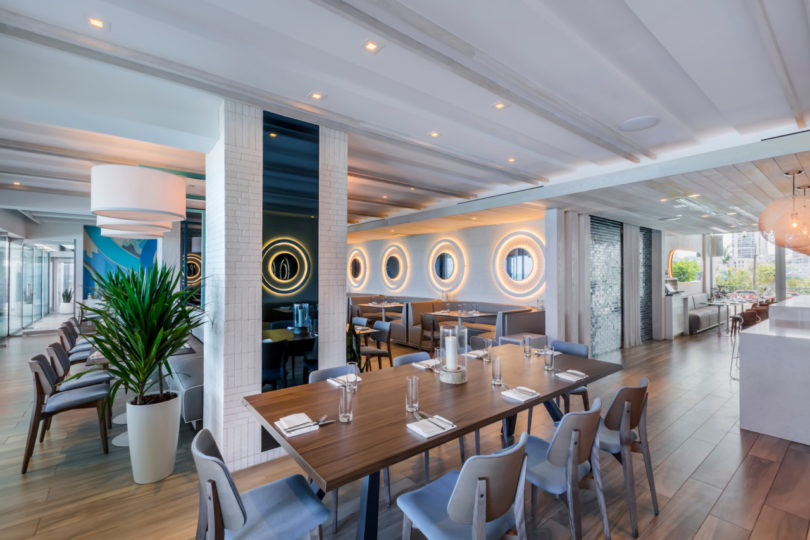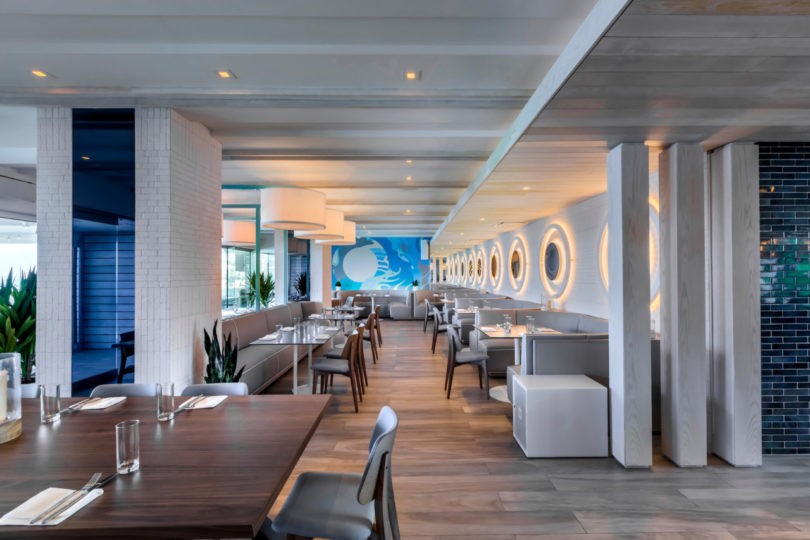 What: The Serafina Beach Hotel
Where: 1045 Avenida Doctor Ashford, San Juan, 00907, Puerto Rico
How much? Rooms start at approximately $159 per night.
Highlights: Unwind and soak in the surf and san culture of San Juan with a relaxing stay at this stylish boutique hotel. The star of this show has to be the infinity-edge pool that sits low and inches away from the waves, creating the feeling that you're actually in the ocean rather on the coast.
Design draw: ICRAVE gave the hotel a full makeover, taking inspiration from the colors of the beach and ocean and translating it into a modern color palette for the interiors.
Book it: Visit the Serafina Beach Hotel
Photos by Alex Herrera.
Source:: Design-milk